No More Heroes soundtrack listing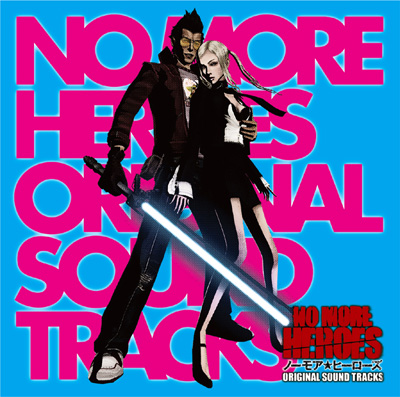 A page on the Marvelous (Japanese publishers of No More Heroes) website has a full listing for the official soundtrack comprising of 3 CDs.
Disc 1
Beam Katana Chronicles
N.M.H.
Too Much Gorgeous
Hell on Bare Feet
Fork in the Wall
Crash
Splash
DND (Do Not Destroy)
Gorgeous Blues
Blaster Nation
Walk Like This
Oxygen Graffiti
Time to Scream
Science of Silence
Crashmere Cannonball
Steel Python
Wishful Whistling
Heat in your Heart
Jackpot
Strawberry shortcake
Wind Blows,Love Dies
Bushido Flow
Season of the Samurai
Righteous,Triumphant,Et Cetera
Warp
Disc 2
K-ENT.
Hot Dreams
Ten Tons of Titanium
Piranhas in the Air
Shy Supernova
Stop Hanging DJs
Hustlin' 'n' Tusslin'
Disaster for Sale
Sun on the Ceiling
Samurai Summer
Electromatherapy
CHIPSTER DASH
GAME OVER
LET'S FIGHT A BOSS
YOU WIN
Blueberry Cheesecake Brownie
HISSATSU Jamba
Violectrolysis
s.
Disc 3
Heat in your Hand
Mach 13 Elephant Explosion
Speed with Teeth
Pleather for Breakfast
Dynamite Rider
Walking on Leaves
Art of the Leaves
Art of the Past
Rocket Surgeon
Electric Ladder
We Are Finally Cowboys
Staff Wars EPISODE I
The virgin child makes her wish without feeling anything
NO MORE NO MORE HEROES
N.M.H. (Action Mix)
Wide World
Get
You Suck
Bronze
Mask Power
Silver
GET!!
Batter up
"1.000"
You Rock
Gold
Energize