First look at Toki Tori

A couple of weeks back, puzzle game Toki Tori was announced for WiiWare. Developers Two Tribes have now updated their website with some more details and screenshots.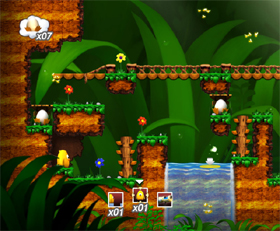 Suitable for all ages, the lovable Toki Tori will be available in the US, Europe and Australia. According to the site, the original Game Boy Color game has been improved on in every way, with overhauled graphics, dozens of levels and a fresh new control scheme using the Wiimote. Toki Tori can make use of several items as he progresses, including Telewarp, Freeze-o-Matic and InstantRock.
The game will also make use of Wii's Message Board somehow. The release is set for Spring 2008. Looks like it could be fun.