Miis in Mario Kart Wii

The latest edition of Famitsu magazine has some fresh new details on Mario Kart Wii. First and foremost, the game is said to release in Japan on April 10th, for around 5800 Yen ($54). North America is also expected to get it sometime during the second quarter.
16 tracks (8 new, 8 remakes).
Wi-Fi games for up to 12 players.
Baby Peach and Boo will be racers.
Bikes can do tricks like wheelies.
Leagues and world rankings online.
New Wii channel specific to the online aspect.
Upload/Download ghosts and Time Attack scores.
Play as Miis.
That's right, your Mii can be incorporated into the game. As shown here in this scan.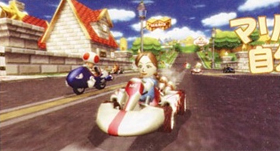 As for the courses, this is what you can expect:
New tracks
Luigi Circuit
Moo Moo Country
Mushroom Canyon
Toad Factory
Mario Circuit (Figure 8 with underpass)
Coconuts Mall
DK Snowboard Cross
Wario Mines
Old tracks
Peach Beach (GC)
Yoshi Falls (DS)
Ghost Swamp 2 (SNES)
Mario Circuit (64)
Sherbet Land (64)
Hey Ho Beach (GBA)
Monty Town (DS)
Waluigi Stadium (GC)