Wii on the Cursed Mountain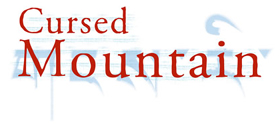 I just felt a great disturbance in the force.. a new survival horror game is on its way to Wii. Deep Silver, the developer behind such greats as "Crusty Demons" and "Singles: Flirt Up Your Life", have announced Cursed Mountain.
It's set in the 1980s (awesome to the max), you play a mountaineer on a quest to find his lost brother. His search takes him to the Himalayan mountains where he runs into an almighty curse, involving the souls of those who died on the mountain: villagers, monks, and other freaky deaky people. Deep Silver's Hannes Seifert said:
"With a fresh setting, gloomy atmosphere and the innovative use of the Wii controls, Cursed Mountain will deliver a unique, terrifying gameplay experience. Deep Silver is confident that Cursed Mountain will help to further establish our international presence, and help expand the survival horror game genre on the Wii platform".
I love me some gloom. You can expect to ascend the Cursed Mountain sometime in 2009.