Dakko Dakko announces Wii U project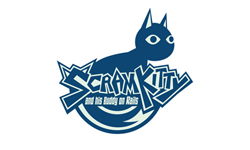 Scram Kitty and his Buddy on Rails
Dakko Dakko is a small development team based in Cardiff, Wales (where I live!). Earlier today they put out a press release with some details of a Wii U exclusive game called Scram Kitty and his Buddy on Rails. That might be a working title, but the Dakko Dakko team is known for crazy naming habits.
We can expect Scram Kitty on the eShop sometime in 2013. Other than the snazzy logo, we don't have any visuals to show you.
"Our new game came into being almost as soon as I heard about the Wii U and its Wii U GamePad. I've long been fascinated by the different experiences made possible when playing a game in your hands compared with playing on a TV, and the chance to combine the best of both worlds in a brand-new HD action game was irresistible."
"All of us at Dakko Dakko share a common love of arcade action games old and new, and we're working hard to ensure our latest game can claw itself a place alongside the best of them."
- Rhodri Broadbent, founder
"As a small console team with big ambitions, we couldn't ask for a better platform to be working on than Wii U and we're overjoyed to be awarded official developer status by Nintendo. Miiverse is an amazing opportunity for independent developers like us to connect with our players, and great games like Trine 2: Director's Cut and The Cave are making the Nintendo eShop feel like a very classy neighbourhood indeed - I can't wait for Scram Kitty and his Buddy on Rails to join them."
- Dan Croucher, producer