MySims take to spying

EA are really running with this whole MySims franchise, today they've announced yet another title in the lineup. Described as a mystery adventure, this one is called MySims Agents.
The game puts players in the shoes of elite agents, tasked with foiling the plans of an evil underworld boss called "Morcubus". This will involve using gadgets and recruiting a number of different Sims into the squad, each with their own specialized skills including footprint tracking, forensics, lock picking, computer hacking.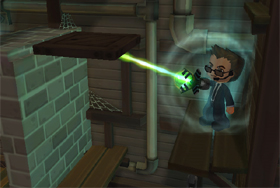 The force is strong with this one.
EA's Tim LeTourneau commented:
"We are thrilled to bring you MySims Agents, the next game from MySims, something completely different from any MySims game before. Its mystery-meets-adventure theme allows players to hone their problem-solving skills while still enjoying all the beloved MySims charm, characters, customization and humor".
MySims Agents will be sneaking onto store shelves this Fall. Click over to the game's page for more screenshots.