Plush toy with Hometown Story preorder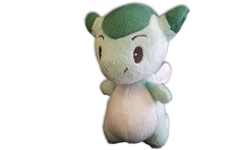 I shall call him Squishy
Natsume's Hometown Story is due out on 3DS next month and pre-orders at GameStop have just opened. Early adopters will get a free plushie toy of a Green Ember Dragon (pictured).
Hometown Story is created by Harvest Moon's mastermind Yasuhiro Wada, and actually takes place in the Harvest Moon universe, but is said to offer a different kind of experience.
Players are tasked with the running of a small town shop inherited from their grandmother. Day to day jobs involve things like keeping the shelves well stocked and expanding the business. As the town expands, over a hundred non-playable characters will be on hand to interact with.