Hudson announces Star Soldier R


Through a press release Hudson has confirmed that Star Soldier R is coming to WiiWare in North America. It's a vertical shooter based in space.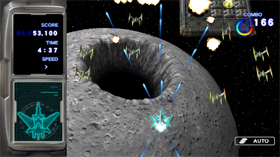 SSR challenges players to make and beat high scores, either in a 2-minute mode (one level) or a 5-minute mode (two levels). Each level has its own boss. There's also a Quick-Shot mode to test your reflexes in.
Online leaderboards will be on-hand to match your scores with. There are also three control methods to choose from:
Wiimote only
Wiimote + Nunchuk
Classic Controller
Bigger screens will be available when our WiiWare section is up.