SteamWorld Dig heading to the 3DS eShop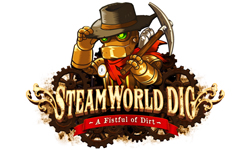 Can you dig it?
Swedish developers Image & Form have just announced a game (an actual game!) for 3DS eShop.
SteamWorld Dig is billed as a hardcore platformer, the game stars Rusty, a lone robot built for mining. Here is the quoted features list:
Carve a path through the earth, and explore a deep underground world full of secrets, treasure and terrors.
Uncover the remnants of Human civilization, a degenerate race of drunken, dynamite-wielding troglodytes.
Meet the weird and interesting townsfolk of Tumbleton and help the community get back on its feet.
Beautiful, high-res graphics with dynamic lights and multiple parallaxed background layers.
SteamWorld Dig is planned for release in mid-2013, you can check out a handful of screenshots on the game's page.
Yay or nay?