Musketeers on WiiWare

A press release from Swedish developers Legendo Entertainment says they're bringing their game The Three Musketeers: One for All to WiiWare.
Originally intended only for the PC, Musketeers is a platform game with Wiimote swordfighting, puzzles and traps to avoid.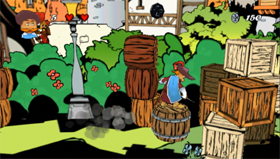 Locations featured include forests, dungeons, castles and the town of Normandy. Screenshots are up on the game's page.