Wii Light Sword accessory

Play, a gaming retail site based in the UK has a listing for a new accessory that looks a lot like a Light Saber.
Officially named the Wii Light Sword, it powers up bright blue LEDs using three AA batteries.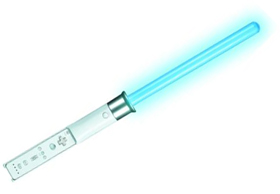 You can't win Darth.
The light sword is penned for release on November 30th. There's currently no mention of whether it will be compatible with Star Wars: The Force Unleashed.