Pega screen for portable Wii

Hong Kong company Pega have released a display screen for the Wii allowing gamers to take it out and about with them (yea, like people go outside any more).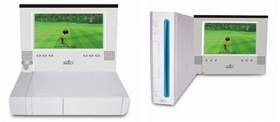 Pega Wii screen.
Its key features are:
7 inch screen
Keys to control volume and color balance
Screen direction can be adjusted in 4 ways
Me, I'll settle for my DS Lite.