Amazon Reveals Unannounced Modes for Wii U Version of Smash Bros.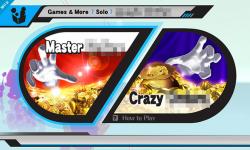 Another day, Another Smash Bros. leak
Whether it was accidentally or intentional, Amazon has revealed numerous amounts of unannounced info for the Wii U version of Super Smash Bros..
The game's profile description reveals modes including a stage creator mode, a board game mode, and a challenge mode crafted by either Master or Crazy Hand (which is related to an image Smash Bros. creator Sakurai teased earlier this week on Miiverse).
Face off against the biggest roster of Nintendo all-stars ever assembled! Send your rivals flying with powerful attacks to earn all-new customizations and equipment that trick out your fighter's moves and stats. Then power-up and train intelligent amiibo figures* to take on your friends!

The multiplayer showdown** you know and love is now on the Wii U console! Take on all comers as Mario, Mega Man, Sonic, and more gaming greats. Or tap an amiibo* to the Wii U GamePad controller to train it up by battling with or against it. You can even pit your amiibo against a friends' to see how your training methods stack up. Whether you're creating stages on the GamePad, competing in challenges crafted by Master Hand and Crazy Hand, or outwitting your opponents in a brand new board game mode, there's no doubt that the ultimate Smash Bros. game has arrived.

Amazon profile description
No matter how hard Nintendo tries to keep information about the game secret, it still seems to get out - one way or another. Luckily, it doesn't seem to be hurting sales. What do you think of the new modes? Are they enough of an incentive to make people who bought the 3DS version pick it up on Wii U?