GameStop's Brawl tournament
GameStop will be hosting Super Smash Bros. Brawl tournaments at 2,500 of its stores across the US (includes EB Games).
It all kicks off on March 8th (i.e tomorrow). Store winners will progress to district tourneys on March 15th. Winners of those go on to a brawl in San Jose on March 29th. The winners there will go all around the world, devoting their lives to the art of brawl. I made that last bit up, San Jose is the final.
The grand prize is pretty awesome:
Visio 37" LCD TV.
A Nintendo Wii console and accessories.
The entire Wii game library.
$5000 cash.
I'm not sure if this part is genuine, but some reports say this is the GameStop SSBB trophy the eventual winner will get: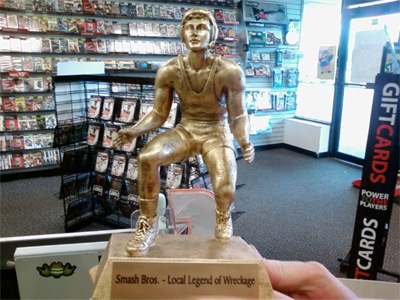 Did they cheap out?
If true, that's hilarious. Beneath that plaque it probably says "Junior Wrestling Champ 1984".