Nintendo Confirmed As Sponsor For APEX 2015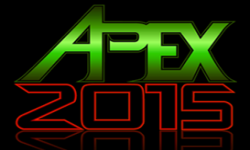 Another positive step for the Smash competitive scene
APEX is a yearly tournament that originated in NYC back in 2008 as a Super Smash Bros. Brawl only tournament. With each successive year, the organizers introduced Super Smash Bros. Melee and eventually the original Super Smash Bros. Many of the greatest competitive Smash players played in APEX at some point, including - but not limited to - Mew2King, Hungrybox, Armada, DrPP, and more. Gathering Smashers from all the around the world, APEX firmly rooted its place in the competitive Smash scene.
Today, APEX has confirmed on their official Twitter account that Nintendo is officially sponsoring the tournament for 2015! This is a big step for Nintendo towards building their relationship with the Smash community. Nintendo also sponsored EVO 2014, which went down great as well. As of writing this article, there are 106 players registered for Brawl, 132 for Smash 64, 500 for Smash 4, and a whopping 746 for Melee, making this one of the biggest Smash tournaments in history!
As a long time Nintendo fan and competitive Smasher, I'm very happy at the news. I'm hoping this is a sign of things to come! What do you guys think? Let us know in the comments below.