Red Steel 2 details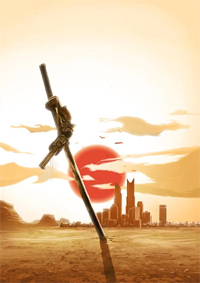 GAIJIN! Earlier today, Ubisoft put out a press release describing a little about Red Steel 2.
Red Steel remains one of the most successful Wii titles and the only brand created specifically for the launch of the platform. Red Steel 2 is being developed by Ubisoft Paris and will be available for the 2009 holiday season.
Red Steel 2 returns with an artistic style and flair created just for Wii. Set in a desert-bound, hi-tech metropolis, Red Steel 2 is a revolution in the action-fighting genre, taking full advantage of the capabilities of Wii's MotionPlus accessory. Your movements are faithfully replicated on-screen, putting the emphasis on swinging, shooting and fun! With the capabilities of the MotionPlus to sense the strength of a swing, you will literally be able to make an impact on your adversaries through power and precision.
Red Steel 2 will be the must-have game of Holiday 2009 for those who wish to stretch themselves and fully experience a game that was built from the ground up to take advantage of the Wii MotionPlus.
Reports indicate that Red Steel 2 will actually be a cel-shaded game. More details will be available in Nintendo Power magazine (June issue).