Shadow of the Eternals staff gives update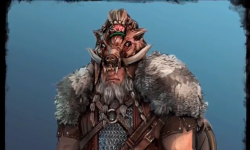 Character Reveals and More
Precursor Games has just released a new video regarding their upcoming Wii U game, Shadow of the Eternals. In the video, Chief Creative Officer Denis Dyack and world-builder Kenneth McCulloch detail some new things about the game.
The two start out by discussing a couple new characters. The first is Tyrannus, a Roman tribune(politician). Unlike his peers, he has spent his life in the military and is frowned upon in his new position due to class differences. People who back the game via Kickstarter at the $100 level or beyond can get a special sword for him called the Gladius, which can revive the player at the cost of sanity.
The second character revealed is Haga, a viking. He was disfigured and left for dead by the people in his home village, and now explores the world. "He was designed to challenge the preconceptions of what people might have for vikings," McCulloch said.
Dyack and McCulloch also talked about community involvement, and how the team has been taking tips from fans in their forums on aspects like historical accuracy. They ended by addressing something that has kept many fans of the original Eternal Darkness wary about the new game. Not too long ago, Kotaku published an article that had some serious allegations about Dyack's treatment of his employees.
To tackle this controversy and help both Dyack and the company start anew, a thread will be started on the Precursor forums in which Dyack himself will answer any and all questions people have regarding the article and him.
Shadow of the Eternals has no release date yet, but its Kickstarter ends in 33 days.