Super Smash Bros. 3DS Demo Released in Japan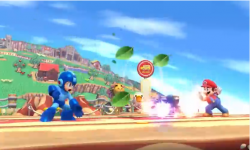 Teased for release in other territories
Japanese 3DS owners got a big surprise yesterday. Nintendo quietly released a demo for the highly anticipated Super Smash Bros., just days before the game hits retailers in Japan.
The demo allows players to choose between 5 fighters (Mario, Link, Pikachu, The Villager, and Mega Man), and do battle on the Battlefield stage with a handful of items and assist trophies. The demo even includes local multiplayer, giving you and a friend the option to see who is better - Mario or Mega Man.
The rules are all preset, so players won't get to really explore all the options of the game, but honestly I don't think fans are going to mind.
While this demo is only out in Japan right now, Masahiro Sakurai has teased that the demo will be released in other territories.