Zeldathon Relief Announced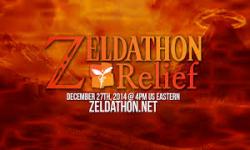 Pot smashing for a great cause
Lately it seems that Christmas has become the holiday of "Buy! Buy! BUY!" Let's remember that this is the holiday of giving and joy. It's nice to see some charitable souls haven't forgotten this, and hope to bring joy to people who really need it. How do they accomplish this? By playing tons of Zelda!
That's right! The nice people over at Zeldathon have announced the Zeldathon Relief! A live stream event where challenges will be tackled, shenanigans will arise, and lots of Zelda will be played! The goal of the stream is to raise money for Direct Relief,"a non-profit, non-partisan organization that provides medical assistance to people around the world who have been affected by poverty, natural disasters, and civil unrest".
It all kick-offs live on Twitch December 27 at 4pm Eastern time / 9pm UK / 10pm CET.