This one time, at Space Camp

Houston, we've got more mini-games. In a press release Activision has announced a party title called Space Camp heading to Nintendo Wii.
Allegedly crammed full of "accessible space age mini-games" and options for multiplayer, Space Camp puts you in the moonboots of a wannabe astronaut learning the ropes.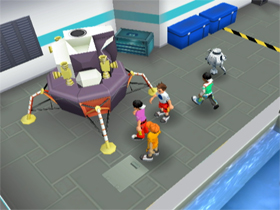 "After rocketing yourself to the moon, you must engage in a series of futuristic, furiously fun missions in order to return home to Earth".
Space Camp launches this June.