More assist trophies revealed

Assist Trophies aplenty in today's Super Smash Bros Brawl update from Sakurai.
Metroid - The crabby little artificial life form. Keep it away from your head.
Tingle - Love him or hate him, it's Tingle the aging fairy from the Zelda series.
Kat & Ana - Sword wielders from WarioWare, they'll slice you up real nice.
Jeff - This guy is from Earthbound and launches rockets to attack.
Helirin - A kind of spinning blade/baton thing from Kuru Kuru Kururin (a fun game on GBA). It won't hurt you, but it might get in the way.
Jill & Drill Dozer - The end of the Drill Dozer is pointy, stay out of its way.
Nintendog - Do you like Labrador retrievers? You'd better, because this one's getting right in your face.
Lakitu - Where does this guy get off throwing spineys from his cloud?
Hammer Bro - Stop! Hammer time. Another awkward pest from the Mario franchise.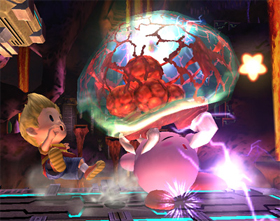 The years no doubt have changed me.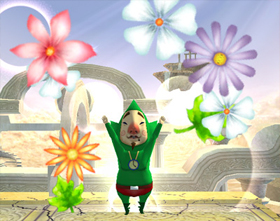 I feel joyful now.

If it wasn't for you pesky kids..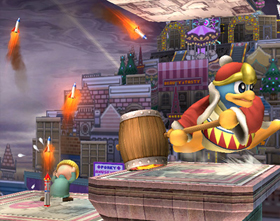 Bombs over Baghdad.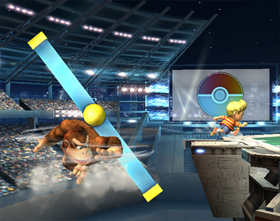 I can never figure out these revolving doors.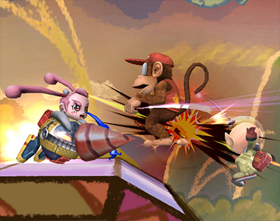 Hai, I need directions to the Technodrome.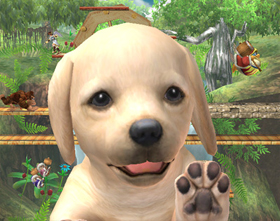 C'mon, throw a stick already.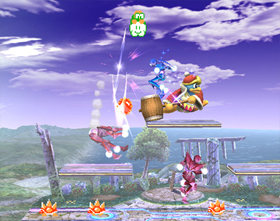 Where's Huey and Duey when you need them.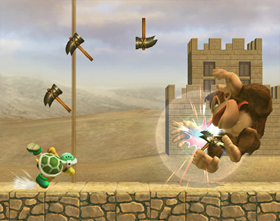 Exactly where are you pulling these from?