Today's Super Smash Bros. Brawl update describes a few techniques that never made it into the instructions manual. These small tips might really help your game.
Ukemi can be used when a hit sends you flying. If you tap the shield button just before you hit the ground, you will slow yourself right down and flip back to your feet.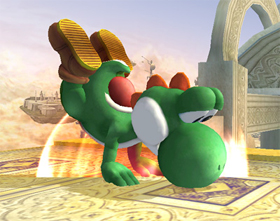 HUP 2 3 4.
Perfect shield is where you activate your shield just before a blow hits you. You'll recover from it instantly, meaning you can counterattack right away.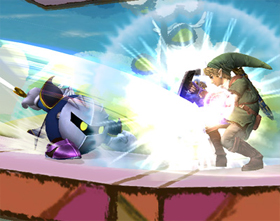 Do I look silly in this hat?
Do you rely on the same moves over and over again to win matches? Think again, stale-move negation means that over time repeated moves will dish out less damage.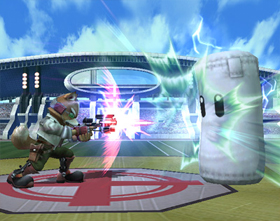 That move is so last week.
When your move barely touches an opponent it's called a glancing blow. These will barely have any effect and your opponent won't flinch.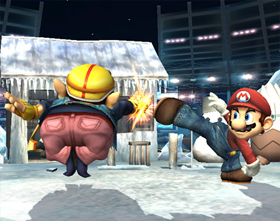 AGH MY FINGER!
If you find yourself in the water you can swim for a short period of time. How long depends on your damage meter.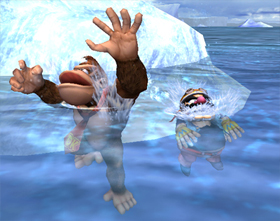 Help! This is my best tie!
Small jump is an important technique where you can control the height of your jumps. Using this you can often jump your opponent's attack, but still be near enough to counter quickly.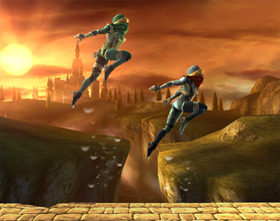 You rack disciprine.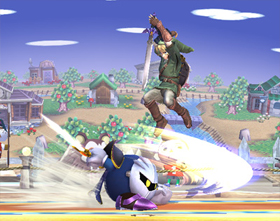 This might sting a little.
Eating on the floor is just what it sounds like. Tapping A while you're lying down you can grab nearby food without even standing. Caution: This move can lead to indigestion.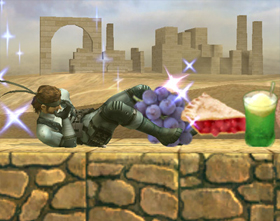 Ohh I've got stomach cramps.
A number of fighters in Brawl have the ability to reflect projectiles back at their opponents. Doing this increases the potential damage it will cause. If you bounce it back and forth too much though, someone's reflector is sure to break, giving them a bad time.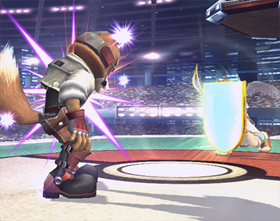 Fox sees Stars.