I had a feeling this was coming today. The latest Super Smash Bros Brawl update describes Captain Olimar's special moves. Of course, they involve the Pikmin.
His standard special move is the Pikmin Pluck. As long as he's standing on some ground, Olimar can pull up a new Pikmin. Certain colored Pikmin are more likely to show up depending on the type of ground he's plucking from.

You work for me now.
Up to 6 Pikmin can be following him around at any one time. There are five unique types available:
Pikmin colors
Red - Fiery attacks with high power, immune to fire.
Yellow - Electrical attacks, higher range, easier to hit with.
Blue - Strong and more durable.
Purple - Heavy and slow, powerful. Slams into enemies instead of grabbing.
White - Fast and light, poisons enemies for extra damage.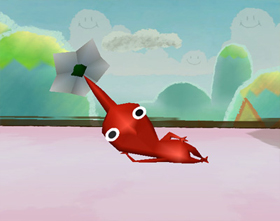 Do you want me, baby?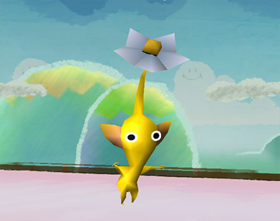 Caught on camera.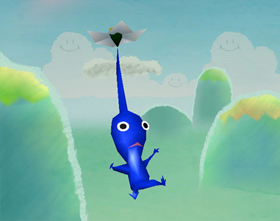 Can't I fly with this thing?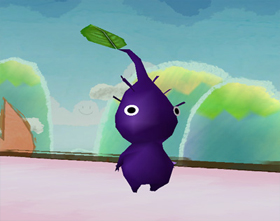 The Notorious P.I.K.

It's a beautiful day for a stroll.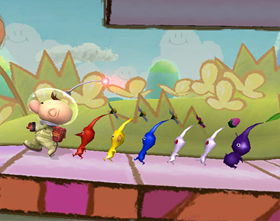 Keep up, fatboy.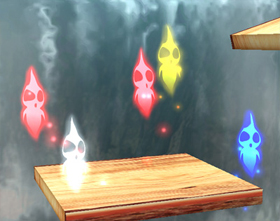 This is what I get for my trouble.
The side special move is the Pikmin Throw. This is where you throw a Pikmin, if they hit your opponent they'll grab on and slowly cause the damage meter to rise.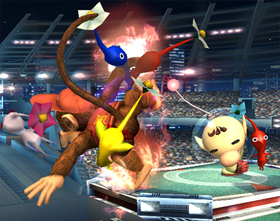 Help, I think I've got fleas.
Olimar can also use his Pikmin as a means of recovery if he goes over the edge, with the up special move of Pikmin Chain.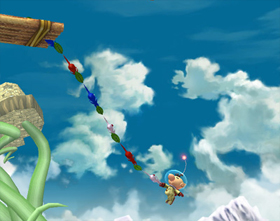 Ok, we'll talk about that pay rise.
Lastly, you can call back wayward Pikmin, or just reorder your line using the down special move Pikmin Order.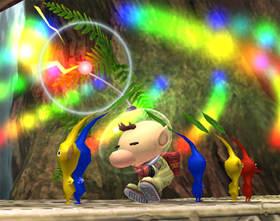 Everybody dance now.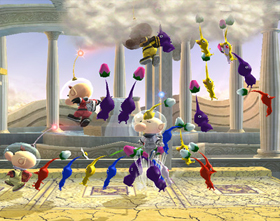 Chaos at the Pikmin Mansion.