Comic Workshop Coming to North America on July 17th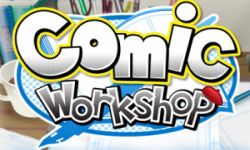 Become the next Stan Lee on 3DS
After the January release of Collavier Corporation's game, Comic Workshop, in Japan, the North American market was promised a release sometime in the future. We now know that Comic Workshop will be released on the 3DS eShop in North America on July 17th. The application will cost $7.99 with full functionality.
The application includes everything needed to create your own comic, including complete control of frames, variable thickness pen, speech bubble control, and various preloaded stickers. You will also be able to import pictures for use as backgrounds. For a complete look at the creation process, please go to the official website.
After you complete a page, it will be saved on the SD card and will be viewable in the gallery with all of your other pictures. You will be able to save up to 6400 pages at a time. After saving, you will have the option of posting pages directly from your 3DS to Twitter, Facebook, and Twitter; or, you can move the files to your computer using the SD card. As of now, there will not be support for posting pages to Miiverse, but hopefully that will be added.
This application will be an exciting edition to the 3DS eShop and will continue to prove the 3DS is more than just a video game console. Let me know if you are excited to see the Comic Workshop coming stateside in the comments and don't forget to follow @WiisWorld on Twitter!