Wii dies a death jr

Reports indicate that Death Jr 2: Root of Evil, a game previously limited to the PSP is now coming to Wii.
Developed by Backbone Entertainment, the Wii version will be upgraded in a number of ways according to the producer, James Stanley.
Higher polygon counts.
Textures of a higher resolution.
Extra voice acting.
Co-op play via split screen.
Improved interface.
480p display.
Support for Dolby Pro Logic II.
An early screenshot is available: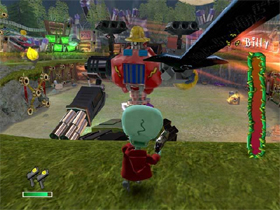 Optimus? You've changed man.
Personally I haven't heard of Death Jr before, hope it's a good'n.