Captain Olimar's stage in Brawl

First off some bad news. That rumor posted yesterday about Super Smash Bros Brawl being delayed until March 9th turns out to be true. Says so right on the official Dojo's shiny face. As far as I can make out, the Japanese release date is now January 31st.
More uplifting though, is Captain Olimar's home stage: Distant Planet. Done in a similar style to a level you might see in Pikmin, it's a grassy area with hidden dangers. Torrential rain can occur at any time, and a Bulborb is ready to swallow you without batting an eyelid.
Pellets and onions from the Pikmin games also feature here. If you throw a pellet into an onion you'll be rewarded with items.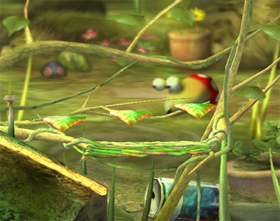 The bulborb in its natural habitat.

Eyyy, this-a better be good.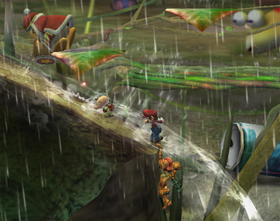 Hang in there Sammy.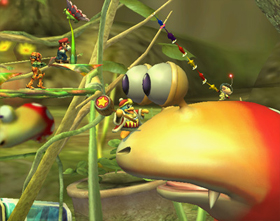 Guys I think I found something.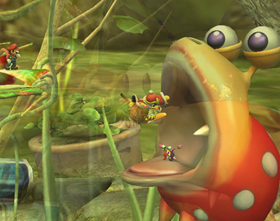 Crikey! Danger danger danger!