Raise your hands for DJ Hero
Activision's next musical sensation DJ Hero will be hitting Wii in the third quarter of this year. Similar to Guitar Hero, it will ship with its own unique peripheral, the turntable: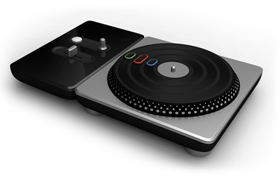 Equipped with only three buttons, compared to Guitar Hero's five, the higher difficulty levels of the turntable are said to be achieved using the crossfader and mixing functions on the black section. Players can also choose to plug in a microphone or guitar and play along using those.
DJ Hero aims to bring dance music, hip hop and electronica to the table. Over 80 "mashups" have been created especially for the game, from renowned DJs like DJ Shadow, DJ AM and DJ Z-Trip. Eminem and Jay-Z are executive producers for the game and will also be providing some exclusive material.