Don King's Prizefighter on Wii

Take-Two Interactive and 2K Sports have announced that a new boxing game will be swinging its way onto the Wii.
Don King Presents: Prizefighter sees you taking control of a rookie fighter, training his way into a fighting career and eventually having a shot at the belt. This will all be told through a narrative done in the style of a sports documentary.
According to 2K's president Christoph Hartmann, the game will feature realistic graphics and is expected to surpass all expectations.
Don King Presents: Prizefighter is scheduled for Spring 2008. Mr King recently celebrated his 76th birthday with family and close friends.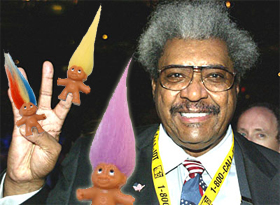 Birthday celebrations.