DuckTales Remastered art 'duckumentary'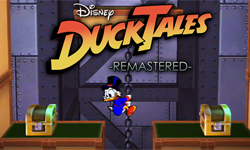 A-WOO OO
If you grew up in the 80s and owned an NES console it's likely you'll have fond memories of the DuckTales game. Personally, I'm very much looking forward to DuckTales: Remastered which is coming out next month on Wii U's eShop.
The developers at WayForward are releasing a series of short documentaries showing the process they went through in re-imagining this classic title. The video below describes art design:
DuckTales: Remastered is penned for release on August 13th.