Eduardo toasting WiiWare

Indie development studio Semnat has given out a press release, revealing their new game for WiiWare. Eduardo the Samurai Toaster is described as a frantic side-scroller where you run and gun your way through the levels.
Graphically it draws from a number of sources, done by hand then scanned in from styles such as pen, ink, acrylic paint and charcoal. In-game enemies are mainly food based - pastries, carrots, mangos and more.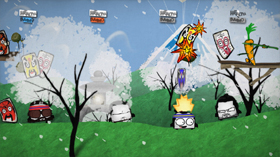 More screens are up on the game's page.