EA breaking faces

EA has announced a new boxing game called FaceBreaker is coming to the Wii. Cartoony in style, it's a more light-hearted look at the sport than usual. Amusingly, one of the features boasted is "real-time face deformation".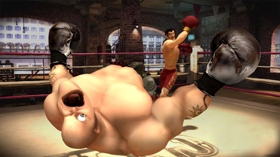 Oooof, I fink my fesh ish bushted.
In a press release, EA's Peter Moore (formerly of Microsoft) said:
"Arcade boxing takes me back to my roots in this industry, and this game signals our shift to adding more approachable fun to our product lineup".
If breaking faces is a keen interest of yours, keep an eye on this one (a working eye).