Get prepped for Overcooked 2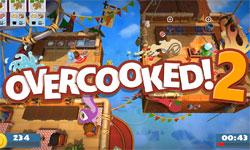 How'd ya like them apples
If you're a fan of Overcooked (or fun co-op games in general), you'll be pleased to hear that a sequel has been simmering quietly in the background and is all set for release on August 7th.
Overcooked! 2 is a cross-platform release, hitting the Switch eShop priced at £19.99/€24.99/$29.99. Team 17 and Ghost Town Games have added a bunch of new features to tempt us in. Read the press release below.
The Onion Kingdom is in peril again and this time it is the fault of the Onion King himself! Reading aloud from the fabled Necronomnomicon, he has cooked up a real problem in the form of a doughy but dangerous army of UNDEAD BREAD called... The Unbread! The Onion King needs you, so chop, fry and bake your way through an all new series of crazy kitchens to defeat them and save the kingdom.
Overcooked 2 is a chaotic co-op cooking game for 1-4 players in which you must serve a variety of recipes including sushi, pasta, cakes, burgers and burritos to hungry customers in a series of unconventional kitchens. Whether it be a hot air balloon, a magical Wizard's school or even another planet, you'll have to be bready for anything. Work solo or with up to three friends to prep orders while overcoming obstacles such as fire, collapsing floors, overbearing waiters and of course, the classic kitchen problem of floating work surfaces.
Online multiplayer! For the first time you can cook up a storm with up to four players in both local and online multiplayer
Throwing! Throwing is now an official game mechanic, allowing you to toss ingredients to your fellow chefs or even straight into the pan/blender/onto the floor.
New level mechanics! Overcooked 2 sees the introduction of new game mechanics including moving walkways, controllable platforms and even portals!
Dynamic levels! Throwing you from the frying pan and into the fire, dynamic levels will change around you, offering a new challenge to overcome as the recipes and levels themselves change!
Interactive world map! As you drive, sail and soar your way around the map in the Onion King's amphibious air bus you will open up new areas using hidden buttons around the world.
Kitchens! From the neon lights of a sushi restaurant to the bubbling pots of a Wizard school kitchen, there are plenty of places to cook up a storm in Overcooked 2!
Recipes! From spaghetti to sushi and pancakes to pizza, recipes both old and new will need to be cooked to perfection (or at least not burnt to a crisp!) New recipes mean new ingredients and new equipment so even the most well-seasoned Overcooked players will be challenged.
Chefs! Overcooked 2 introduces a whole host of new of chefs to play in the kitchen including an eagle, mouse, beaver and what kitchen is complete without an octopus!
Budding chefs can pre-order Overcooked 2 to receive the 'Too Many Cooks' DLC pack which includes five chefs: Alien, Walrus, Unicorn, Monkey and Calico Cat.
For me, the original Overcooked had great potential but was let down by floaty, imprecise controls. I'm hoping Overcooked! 2 goes some way to address that.