Grinder - Another High Voltage game

Seemingly on a roll, High Voltage Software has announced another title aimed at core gamers on Wii to be shown off at this year's E3 Expo.
The Grinder is a horror FPS featuring a team of mercenary hunters, paid to seek out and kill swarms of monsters. The members of the team are Hector, AJ, Doc and Miko.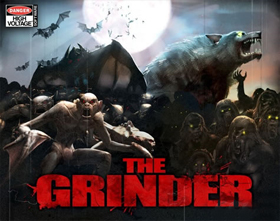 HVS are keen to make The Grinder action-packed, reports suggest that up to 65 enemies can currently be active at the same time. The likes of these include:
Vampires
Werewolves
The Slasher
The weapons are predominantly guns, e.g. pistols, AK-47s and shotguns. Japanese assassin Miko however may have sword-based attacks that make use of the MotionPlus addon.
Online play is also said to be fully supported. At least four players will be able to join up and enjoy a co-op mode. CPU hunters will fill any empty slots in the team.
The Grinder is penciled in for a holiday 2010 release.