You may not have heard of it yet, but Tiny Galaxy is an upcoming game for the Wii U eShop by indie developer Arcane Pixel.
Taylor Hajash, founder of Arcane Pixel, kindly agreed to answer some questions for us:
---
Hi Taylor! Give us some background on your company Arcane Pixel, how long have you been game developing? Are you a one-man band, or do you collaborate with others?
I've been developing games now for about 2 years. I'm getting ready to graduate with a degree in game development soon. I'm pretty much a one-man band haha. I do it all, from art to programming to every part of the business end. I have recently been in talks with someone to help out with the music for Tiny Galaxy. I just got his samples in and they're sounding really great. I was a little apprehensive about collaborating with anyone but after hearing his work, I'm really happy. It's also a major weight off my shoulders now that I dont have to worry about working on the music as well.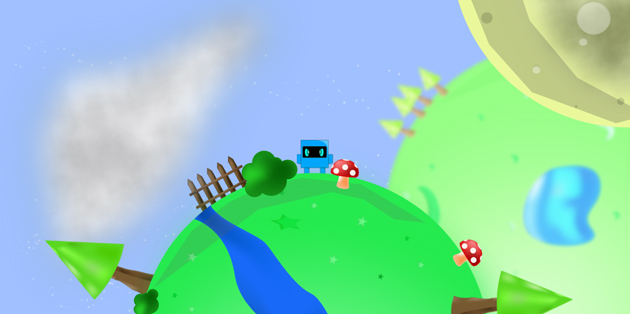 How would you describe your game, Tiny Galaxy? Who is the main character and what is his/her/its goal?
I would describe Tiny Galaxy as a gravity based, atmospheric platformer. The main character, I haven't really given much thought into. It's really just a block with arms and legs haha. I'm not the best at animations so for me, the character was one of my first attempts at animating a walk cycle and just working on improving my animation skills.
After a few days of working on him, I put him into what I was working on, what would become Tiny Galaxy, to test things out and see how it ran. He sort of seemed to fit the world I was creating as well as break up the roundness. I have a game that is full of round planets, round rotating saws, and the square shaped character fit in the sense that he could stand out from the rest of the world. I'm not really ready to share anything on the story or plot just yet since it's still a work in progress and could change at any time. The player's goal will be to collect 3 objects (not sure what they'll be yet) in order to open up a warp gate/black hole to get to the next level.
How long has Tiny Galaxy been in development? What has been the biggest challenge so far?
I've been actively developing Tiny Galaxy now for 3 months. One of the best parts about working with the Nintendo Web Framework is being able to develop games pretty fast, especially if you're a small team. The biggest challenges have been working with new software which I've never touched before. It's easy to find ways to make a platformer game, but as soon as you do something such as bend a straight platformer game into a completely round platformer, everything breaks, gravity stops working or starts shooting the player in random directions haha. Being behind an NDA makes it so I can't really go to a forum or ask someone "hey look at this, I think I missed something". Sometimes a second set of eyes can be a big help in just seeing a small issue... like a decimal point being in the wrong place that breaks everything.
Looking at the small round planets in the screenshots, I can't help but be reminded of Super Mario Galaxy. Was that game an influence at all?
Yeah Super Mario Galaxy was a big influence for sure, but Tiny Galaxy plays absolutely nothing like Super Mario Galaxy. At any point you can jump between planets in Tiny Galaxy so I would say it's less linear as far as playing through each level. As the person making the game, I know exactly where to go and what to do, but something I'm extremely excited to see is how other people play it and find things I didn't even know you could do! My other big influences are Sonic the Hedgehog and Mega Man. They were some of the first games I ever played, so they'll always have some influence over everything I make.
What drew you to the Wii U platform for Tiny Galaxy? Are you using any features specific to the GamePad?
The other big console manufacturers seem to still have a lot of road blocks that small developers have to get through to just make a game. With Nintendo, they're trying to make it as painless as possible for developers to make games which was big draw. Plus come on, who wouldn't want to makes games for the people who made The Legend of Zelda? haha.
I'm using the Wii U GamePad for off-screen play, which to me is one of my favorite features. You will also use the GamePad's touch screen for level selection and menu navigation.
How do you find working with Nintendo?
When developing for any video game console, it's really a totally different world when compared to PC or mobile devices, but with Nintendo, it's been all positive. I've heard some horror stories about working on games for other consoles, and Nintendo, they have made it so smooth. I think the only issue I had was setting up the development hardware, I had never done anything like that before. But Nintendo was right there to help me and in the end it was my fault I was having the trouble and we all had a pretty good laugh about it. I'd like to have some games be multi-platform, but I have no reason to not work with Nintendo on my future games, I can't say it enough, they've been great to work for.
Do you have an idea of the release date or price point yet?
As far as a release date, nothing is set in stone yet but I'm shooting for early 2015, hopefully towards the end of Feb, but nothing is solid yet. Pricing is a little tricky for me. I'm looking at somewhere between $7.99 and $9.99. It depends on how much quality content I can cram into the game while maintaining a relatively small download size. Once I get closer to release I'll probably play the field a little and see what people would think the game costs and should cost. But pricing really isn't my main concern, for me it's just making a good, fun game that people enjoy.
---
Many thanks to Taylor for taking time out of his hectic schedule to talk to us! Keep up to date with the latest on Tiny Galaxy here on Wii's World, or by following @ArcanePixel on Twitter.