Is a Last Story Sequel Coming?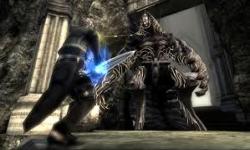 Sakaguchi teases possible sequel
This past weekend at PAX Prime, legendary game designer Hironobu Sakaguchi (the creator of Final Fantasy) hosted a panel. The panel, titled Hironobu Sakaguchi Reflection: Past, Present, Future of RPGs, was mostly about his past experiences in making games for the RPG genre. However, Sakaguchi may have dropped a big hint about a future game.
Sakaguchi was asked about a sequel to The Last Story, in which he jokingly responded by saying, "Oh yeah, you talk to Nintendo." The moderator of the panel then asked the crowd if they wanted a sequel on the Wii U, which was answered with applause and cheers. Sakaguchi responded by asking, "And maybe PlayStation 4 too?".
He also talked about Nintendo, stating that the company is good at keeping people on their toes - especially when it comes to hardware announcements. He also expressed an interest in working with the New 3DS.
There have been no official announcements regarding a Last Story sequel. Honestly, I believe Sakaguchi was just teasing the audience a bit. Still, he could have been gauging a response to see if there were enough people who would want a sequel. I guess we'll have to wait and see if this is the last we hear of this story.