Leak Reveals Rest of the Super Smash Bros. Roster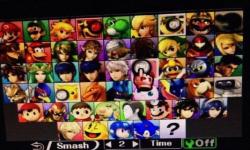 No confirmation from Nintendo
Footage and pictures have emerged from an unknown source that revels 12 currently unconfirmed characters for the upcoming Super Smash Bros..
According to the leaked information: 8 of the 12 characters will be returning, while the other 4 will be new to the series.
The returning characters include: Dr. Mario, Falco, Ganondorf, Jigglypuff, Mr. Game and Watch, Ness, R.O.B., and Wario.
The 4 new characters are: Bowser Jr, Dark Pit, Duck Hunt Dog, and Shulk.
The videos below will give players an idea of how these characters will play:
I want to stress that these videos are unofficial and have not been confirmed by Nintendo. There is no way to confirm the inclusion of these characters.
We will continue to update this story as it develops.