Logitech wireless racing wheel

Logitech has announced a new peripheral for Wii, this one is a steering wheel. I present to you, the Speed Force Wireless racing wheel.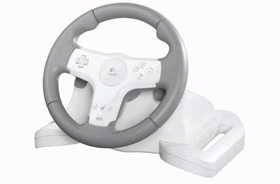 Start your engines, vroom.
It features force-feedback and has been designed to work with the upcoming Need for Speed Undercover, but will work with future driving games too.
The wheel is wireless, but works through the USB port. This means you have to connect a wireless receiver into the back of your Wii.
At $99.99 it's not what I'd consider cheap, and probably aimed at people who are really into racing games. You can expect to see it hit retail sometime during November, in both the US and Europe.