Mad Dog McWii

A listing on the ESRB website says that Mad Dog McCree of arcade (..and CDi) fame is making a comeback on our favorite console, the Wii.
Mad Dog McCree: Gunslinger Pack will be published by Majesco. Details are thin on the ground right now, but the original was a light-gun shooting game set in the wild west which made heavy use of FMV.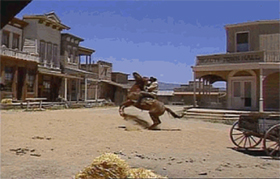 Anybody else familiar with this "classic" that time forgot?