Majora's Mask 3D Collector's Edition Contains Skull Kid Figurine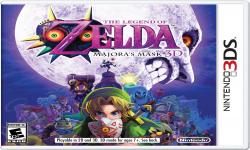 Pre-orders are now open!
GameStop has released the first image of the upcoming Legend of Zelda: Majora's Mask 3D collector's edition. The collector's edition will feature a copy of the game, obviously, and a collectable figurine of the game's antagonist, Skull Kid, and will retail for $49.99 USD. In addition to this collector's edition of the game, Prima Games will also be releasing a special edition version of the game's strategy guide at launch for $34.99 USD. While no images have been released of the strategy guide, it will undoubtedly be released in the same style as the previous Prima Games collector's edition guides for the Zelda series.
So, what do you think of these latest Zelda series collector's editions? These are sure to sell out fast, so have you gotten your pre-orders in yet or are you going to just get the standard edition of the game and/or guide? Let us know in the comments below.