Mario Kart 8 Wii U Premium Bundle Announced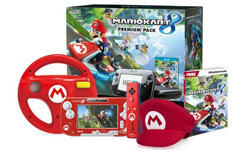 Nintendo has just announced that they will be releasing a Mario Kart 8 Premium Pack on May 30th, the same time the game is scheduled to release.
The bundle will come with a black Wii U console with 32GB of storage as well as a black game controller and sensor bar. All of this along with the Mario Kart 8 disk included makes this bundle perfect for first time Wii U owners and Nintendo lovers.
The game itself includes an exciting collection of 16 classic courses that have been remodeled as well as 16 brand new courses to race on with zero gravity. Racers will find themselves speeding through the track sideways and upside-down as they try to cross the finish line in first place.
Not only will the game and bundle be released on May 30th but also Yoshi and Peach fans will be thrilled to get their hands on new pink and green Wii Remote Plus controllers, featuring their favorite characters.
The Wii U Mario Kart 8 Premium Pack is now available for pre-order, including on the Official Nintendo Online Store.