Characters in Mario & Sonic Olympics

A new screenshot for Mario & Sonic at the Olympic Games shows off what seems to be the full character roster. Unsurprisingly they're all from the Mario and Sonic franchises.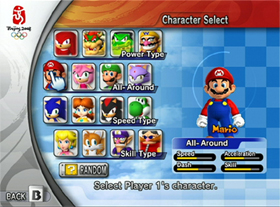 Mario & Sonic Olympics roster.
Power types
Knuckles
Bowser
Vector the Crocodile
Wario
All-round types
Mario
Amy
Luigi
Not sure who that purple thing is?
Speed types
Skill types
Peach
Tails
Waluigi
Dr Robotnik (or... "Eggman" -_-)