Minecraft unlikely on Wii U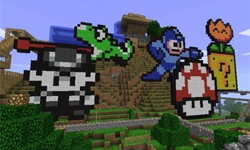 Load of blocks
Nintendo's eShop may be attracting a lot of small developers but Mojang, the team behind smash hit Minecraft, doesn't seem very keen on the idea.
Speaking in an interview with Edge, Mojang's Jens Bergensten had this to say:
Microsoft has an exclusivity deal for consoles. When it runs out we'll consider Minecraft for PlayStation, but Wii U is very unlikely.

Jens Bergensten, Mojang
Unfortunate news, since the Wii U's GamePad could be considered a natural fit compared to standard console controllers.
Would you like to see Minecraft come to Wii U, or is it old news already?