More monster 4x4 racing on Wii

Publishers Ubisoft have announced their latest Wii title. It's a 4x4 racing game, a spiritual follow-up to the earlier Monster 4X4: World Circuit (which received very mixed reviews).
Today, Ubisoft announces the development of Monster 4x4: Stunt Racer for the Nintendo Wii console. Monster 4x4: Stunt Racer puts Wii-lovers back into the driver seat for a whole new race. Gamers of all ages will enjoy even bigger wheels, faster trucks and crazier stunts which made Monster 4X4: World Circuit the second highest selling driving game on the Wii ever.
Whether you're grinding through inner-city construction sites, crunching out-of-town canyons, or scraping through exclusive wall-driving features, players will be able to perform vertical stunts and find shortcuts as they take on their friends and family in 4-player split-screen modes.
Tony Key, Ubisoft: "Monster 4x4: Stunt Racer is a game the fans of Monster Truck World Circuit have been restlessly waiting for. Gamers will get to experience more excitement, upgraded features and the exhilarating action of steering the world's most powerful trucks while tearing through new extreme off-road racing circuits."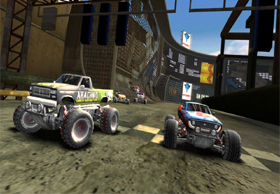 NEW STUNTS: Players can use nitro to pull off crazy stunts like barrel rolls and back flips. Drive up vertical walls to reach shortcuts, avoid difficult terrain and cross the finish line right before your friends.
NEW TRACKS: Monster 4x4: Stunt Racer takes players through 7 new tracks ranging from inner-city construction sites to out-of-town canyons. Each track will provide a new driving experience. The various terrains will have different effects on the truck. Avoid mud pools and patches of ice or risk losing control.
ALTERNATE ROUTES: Players can navigate their way through levels by choosing between different routes that vary in difficulty. Decide between scoring points to gain nitro and taking the racing line to make up time. This includes 50 different challenges across 10 ranks and over 30 side missions.
PLAY WITH FRIENDS AND FAMILY: Have fun playing with friends and family with up to 4 players on split-screen in a variety of multiplayer games including Racing, Freestyle Show-Off and Last Man Standing.
INTUITIVE CONTROLS: Easy, wheel-friendly handling gives full and intuitive control over your truck as you push it to the limit.
NEW UPGRADABLE VEHICLES: Whether it's a European Super Car or a powerful American SUV, Monster 4x4: Stunt Racer has a vehicle to match individual driving styles. Every vehicle part (spoiler, tires, engine?) can be upgraded, giving an extra edge during the race. This includes 6 fully upgradable vehicles and 5 un-lockable supercars.
A batch of screenshots can be seen on the Monster 4x4: Stunt Racer page, it's due out this Fall.