Monster Hunter G controller bundle

Capcom have revealed a bundle option for the Wii port of Monster Hunter G which includes a blue Classic Controller. The game on its own costs 3,990 Yen (around $40), but for 5,200 Yen gamers will get this... behold...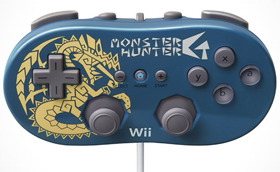 Looks good, right? Monster Hunter G hits Japan on April 23rd.
*UPDATE* - Unfortunately according to Capcom's Christian Svennson, neither the game nor the controller are heading to the US.