Mutant Mudds on Wii U dated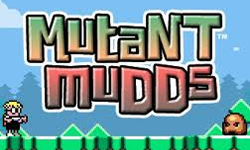 More or less...
I'm a little late to the party as far as this whole Mutant Mudds craze goes, I've only just got finished with the demo. It plays like a pretty basic action platformer, but with a fun twist. I'd recommend giving it a try, as long as you don't squirm when a game gets challenging.
Anyway... news. Mutant Mudds Deluxe is a high-definition version that's coming to Wii U. A tweet by Renegade Kid's co-founder @JoolsWatsham says the game will be coming out in the first quarter of 2013 and that we can expect "even more unique content".