New tour dates for Zelda: Symphony of the Goddesses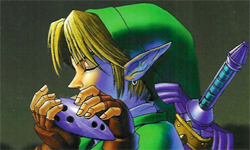 Ocarina around the clock
In a press release Nintendo has just announced more dates for their "The Legend of Zelda: Symphony of the Goddesses" tour. In case you haven't heard of it, this is a kind of concert using a live orchestra and music from the Zelda games. Here are the new dates:
Sep 15: Toronto; Sony Centre for the Performing Arts
Sep 22: Minneapolis; Orpheum Theater
Oct 12: Dallas; AT&T Performing Arts Center
Oct 18: Boston; Wang Theater (lulz)
Oct 25: Chicago; The Chicago Theater
Nov 3: San Antonio; The Majestic Theater
Nov 6: Calgary, Alberta; Southern Alberta Jubilee Auditorium
Nov 28: New York; The Theater at Madison Square Garden
Dec 8: West Palm Beach, Fl; Raymond F. Kravis Center for the Performing Arts
Dec 9: Miami; Adrienne Arsht Center
Dec 14: San Jose, Ca; San Jose Civic
Anyone here planning to go?