Nintendo 3DS gets supersized

90% more bigness
Much like they did with the DSi, Nintendo has revealed plans to launch a larger version of the 3DS handheld. In a Nintendo Direct video dated June 21st, the new Nintendo 3DS XL was showcased.
The XL has 90% larger screens and aims to provide gamers with an even more immersive 3D experience. It comes bundled with a 4Gb SD card to store games and videos. The XL's battery life is said to outperform the original 3DS'. Here's the release lowdown: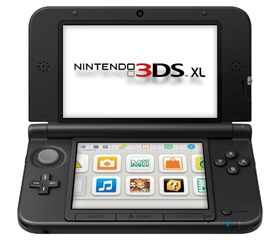 Release date: August 19th, 2012.
Price: $199.99.
Colors: Blue or Red.
Release date: July 28th, 2012.
Price: N/A.
Colors: Blue, Red or Silver.
This release date coincides with New Super Mario Bros 2. Excited?