Nintendo President Satoru Iwata Passes Away at 55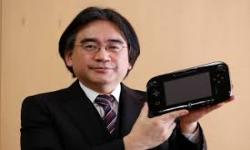 Rest In Peace
Earlier today Nintendo announced the sad news that Nintendo President, Satoru Iwata, has passed away at the age of 55.
Nintendo Co., Ltd. deeply regrets to announce that President Satoru Iwata passed away on July 11, 2015 due to a bile duct growth.

Nintendo
Iwata had been dealing with this medical issue the last couple of years, even having surgery last year to remove the growth, causing him to miss last year's E3. The surgery was said to be a success and Iwata reportedly made a full recovery, but alas, the growth showed up again.
Iwata began working at Nintendo in the 1980s as a programmer (working at the HAL Laboratory), where he helped create Nintendo's Kirby. He became a director of the company in 2000 and was appointed President of Nintendo in May 2002. During his tenure as president Nintendo experienced some of it greatest success (Wii) and biggest failures (Wii U).
Nintendo has stated that it has not yet decided who will be the next president. In the meantime, Shigeru Miyamoto and Genyo Takeda will jointly run the company.
Thank you for you innovative (and ground breaking) products Satoru Iwata. You will be sorely missed by fans everywhere.