Put your face on Just Dance 2015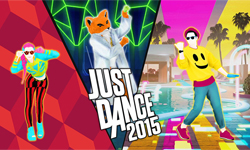 And get a console to play it on
Ubisoft is running a competition for Just Dance fans. What's the prize I hear you ask?
The winner will get their photo on the cover of Just Dance 2015, the latest game in the series.
We're not talking a full portrait image spanning the entire box mind you (that would be something), but a square in a collage, as seen below:
Even so, that's still something you could brag about for a while. The steps to enter:
Follow @justdancegame on Instagram.
Take an original selfie photo showing off your "Just Dance" face or pose, and make sure your profile is set to public so the entry is viewable.
Write about your favorite #MyJustDanceStory in the caption of the photo and use the special hashtag. Stories can be inspirational, funny, serious, etc.
Just Dance (@JustDanceGame) will select and regram their favorite 5 stories, so fans can vote for their favorite #MyJustDanceStory post by hitting the "like" button.
On August 1st, the selfie that receives the most likes will be announced as the winner! The winner will also receive a video game console of their choice and a copy of Just Dance 2015 when it launches on October 21st.
Lose yourself to dance?!