Rabbids get a movie deal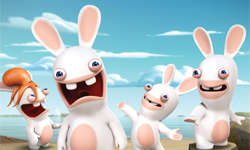 DAAAAAHHHH
Ubisoft has announced a deal with Sony Pictures which will see their infamous Rabbid characters star in a movie.
Rabbids came from humble beginnings, as lovable enemies in the first Rayman Raving Rabbids game on Wii, released in 2006. They have since spawned a number of sequels and even ventured into a TV series - "Rabbids Invasion".
There is an infectious quality to the Rabbids. Their simple joy and absurd, anarchic behavior inadvertently causes you to look at the world afresh. There's no end to the comedy and chaos they will cause when they invade our theaters.

Hannah Minghella, Columbia Pictures
Will you queue up for this one, or wait for the DVD?